London Fashion Week is more and more magical, especially for Disney fans. Fashion designer Mary Katrantzou got inspired by Walt Disney's Fantasia for her Fall/ Winter 2017 collection and let me just tell you guys that "Disney meets High Fashion" is simply a dream come true. It is like seeing a fantasy world mixed with luxurious fabrics. I have already put the outfits on my wishlist and after seeing them, I guess you will too.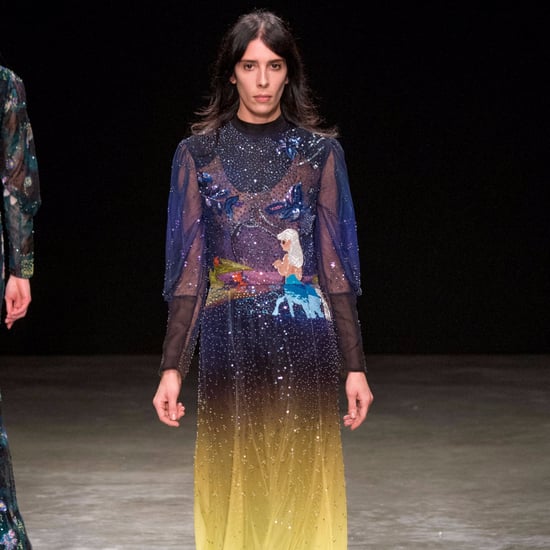 Source: https://www.popsugar.co.uk/beauty/London-Fashion-Week-Autumn-2017-Hair-Makeup-43193985#photo-43193985
The classical 40's Disney musical cartoon is interpreted on embellished fabrics and velvet, making it come alive in a new form. However, it is not the "in your face" type of Disney interpretation like in the case of using Mickey Mouse or more famous Disney princesses such as Cinderella, Snow White and others, but something more subtle.
Fashion designer Mary Katrantzou is famous for her subtle execution. Her previous works were inspired by things like a box of crayons, postage stamps and bills. However, her execution makes it hard for you to notice these details at first glance. I for one believe that this gives a both interesting an mystical twist to the fashion designs.
Source:http://www.elle.com/fashion/news/a43189/mary-katrantzou-disney-dresses/
The desinger's execution style makes her perfect for the collaboration with Disney. The fairytale inspired images stole the show and the models on the runway really made the designs come to life in and bring us back to our childhood. Though, let's be honest, we are never too old for Disney cartoons, right?
With all of the above said, there is not much more to add, as the collection definitely left me without words. My only hope now is that those outfits will teleport themselves into my closet or that I can somehow get to try them. Little princess wannabe child version of myself would definitely love to have one of the outfits. If any of you know how to get them, please write to us.